---
Please Note... Orders now processed manually, please send orders to Ian personally at: idskennerton@hotmail.com : Visa & MasterCard accepted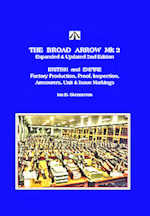 'The BROAD ARROW Mk 2' Skennerton
British & Empire Factory Production, Proof, Inspection, Armourers, Unit & Issue Markings.
11 x 8¾ in., 162 pp, 120+ illust., 2020.
ISBN 0 949749 43 5.
Hard cover numbered edition of 303 copies too.
Thousands of service markings illustrated for rifles, pistols, edged weapons, &c. Invaluable reference on unit markings, also ideal for medal collectors.
pb US$50.00, A$70.00, Pres. hc US$ $80, A$125.00
'BRITISH & COMMONWEALTH BAYONETS' Skennerton & Richardson
Hard cover, 11 x 8¾ in., 404 pp, c.1,300 illust., dust jacket, 1986. ISBN 0 959749 04 4.
From 17th century plug bayonet to 21st century IW utility bayonet, this reference is accepted as the standard reference work on British, Australian, Canadian, New Zealand, South African & Indian bayonets and production. Now out of print

'BRITISH SERVICE SWORD & LANCE PATTERNS' Skennerton
Soft cover, 11¾ x 8¼ in., 48 pp, with over 60 pattern drawings, sewn binding & laminated covers, 1994. ISBN 0 949749 36 9.
Extracted from turn of the century tables & drawings, specifications and measurements have been added from the 'List of Changes in British War Material' to make an invaluable reference on the patterns of swords, sabres, foils & lances. (SAIS #6) Out of Print

'BRITISH SMALL ARMS OF WORLD WAR 2' Skennerton
The Complete Reference Guide to Weapons, Maker's Codes & 1936 - 1946 Contracts. Hard cover with dust jacket, 9½ x 6 in., 110 pp, 36 illust., 1988. ISBN 0 949749 09 5. The No. 1 (Patt. 1907, No. 3, No. 4, Sten, No. 5, No. 7 & No. 9 bayonets are detailed herein as well as swords, dirks, sabres, epees & foils, relating to the contract details, quantities produced during the war, and the various makers' codes. US$40.00 A$45.00

'HANDBOOK ON BRITISH BAYONETS' Skennerton
Paperback, 5¾ x 4 in., 64 pp, not illust., saddle-stitched binding, 1986. ISBN 0 949749 05 2.
This pocket reference is a companion to 'British & Commonwealth Bayonets' with notes and dimensions of all the bayonets from that volume. The back cover features inch and centimeter scales for measuring muzzle ring diameters, blade, overall and scabbard lengths to assist in ready identification. Out of Print

'A SURE DEFENCE' Burton
Hard covers, 10½ x 8¼ in., 99 pp, 116 illust. including full colour front piece, 1988. ISBN 0 7316 1377 5.
Tracing the origins of the Bowie from America, this unique knife became a part of Australian folklore and history during the opening up of the west and the goldfields. The Sheffield trade figures prominently in this study and the 23 page listing of Sheffield makers and traders is invaluable. Out of Print

Note— Also see 'Small Arms Identification Series':
Also see the bayonet pages in SAIS booklets on the No.1, No.4, No.5, M.L.M. & M.L.E. Rifles, 9mm Austen, Owen & Sten SMGs and .455 Webley.

A prime reference source for British service edged weapons is 'List of Changes in British War Material' which we reprinted in 5 volumes, 1860 - 1926.
See the 'Reprints & Miscellaneous' page.